Perfect for women of all ages and kid as well who do not have their ears pierced. The touch of gold gives it a classic look. Amplify with this edgy Pearlistic Slide-On Ear Accessory Ear Clip!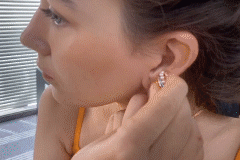 Features:
Non-Piercing: The Pearlistic Slide-On Ear Accessory has soft and bendable. You won't feel too loose to keep it in place or too tight while you're wearing it, offer you a comfortable wearing.
Wardrobe Essential: This single cuff earring is just right for any occasion. The simplicity of this cuff earring complements any style or earring stack.The sparkling diamonds & pearls makes a bold statement without overpowering your style.
Simply Charming: A safe choice as this design will never go out of style. The cuff is great for everyday wear, and worn even if you do not have your ear pierced.
Tarnish Resistant: This elegant single cuff is?extremely strong, and is hard to break, very sturdy, and it would never change colors.
Gift for All Occasions: This is an ideal present for your family, loved ones, and friends.An Ideal gift for Birthday, Wedding, Anniversary, Father's Day, Valentine's Day, Christmas, New Year's Day, Graduation or any memorable moments and special occasions.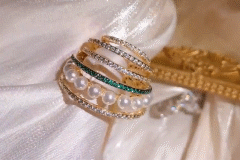 Specifications
Material: Alloy + Pearl + Rhinestone
Weight: 7 g
Size: 2.5 cm x 1.5 cm
Package includes:
1 pair x Pearlistic Slide-On Ear Accessory Ear Clip
💟Different styles of press on nail sets contain different accessories, please kindly check the package list carefully.

💟We guess you need this Mini Manicure Tool Set, which contains all tools you need for press on nails, just $1.99!
Get it👉 Mini Manicure Tool Set