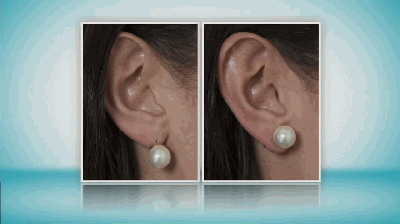 If you notice your earrings not sitting upright where they should, you need earring back support. The must-have beauty break through that safely secures your earring to your ear lobe, lifting them to make them look better. You'll feel more beautiful and more confident.
Features
NO MORE DROOPING EARRINGS: If you're tired of having drooping and saggy earrings, our earring lifters are the perfect solution to keep your earrings in place throughout the day. Perfect for any post back earrings, simply replace your earring back with the magic lifters.
PERFECT FOR YOUR EARLOBES: Heavy earrings can stretch and tear your earlobes, which can lead to pain and discomfort. Our magic lifters will make you feel more comfortable and help repair the appearance of stretched earlobes instantly!
HYPOALLERGENIC AND SAFE: Our earring lifters and backs are made of 100% hypoallergenic and skin-safe materials, and will not cause any rashes or skin irritations when worn. Moreover, the earring lifters are easily adjustable so you can tighten or loosen them so they can comfortably and securely hold your earrings in place.
Specification
Material: Copper
Color: Gold, Silver, Rose gold
Package Include
1 pair Earring aid/3 pairs of earring aids in different colors
💟Different styles of press on nail sets contain different accessories, please kindly check the package list carefully.

💟We guess you need this Mini Manicure Tool Set, which contains all tools you need for press on nails, just $1.99!
Get it👉 Mini Manicure Tool Set